Enlighter Magazine interviewed project manager Jonny Bain to find out more about The Light Lab's approach and concept to work; to discover more about the company, our process of work and thoughts on new lighting technology.
Read the full interview below.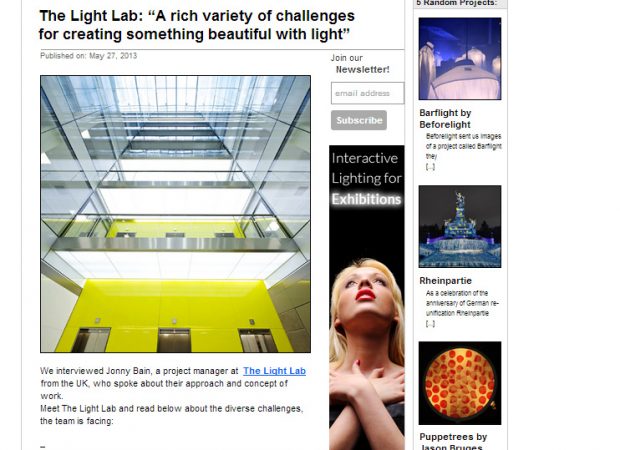 The Light Lab: "A rich variety of challenges for creating something beautiful with light"
Published on: May 27, 2013
We interviewed Jonny Bain, a project manager at  The Light Lab from the UK, who spoke about their approach and concept of work.
Meet The Light Lab and read below about the diverse challenges, the team is facing:
1. What does The Light Lab do?
At The Light Lab we provide a range of lighting solutions, offering a full design and build service for specialist lighting features and installations & specialist lighting design; we also design & manufacture bespoke lighting products, keeping us at the forefront of new lighting technology. We can produce a bespoke lighting fitting to suit any application, from commercial projects, to residential, exterior, branding and signage. We offer a bespoke and personalised service, with one of our project managers working to project requirements from the initial design through to manufacture and installation. We believe this approach takes a certain amount of stress away from our clients and ensures design integrity and delivery.
2. So you offer the services of a typical lighting design studio, combined with manufacture and install?
We are not a traditional lighting design practice – rather we are able to provide the practical knowledge and design and build skills to assist lighting designers and architects in developing and then realising their design concepts. However we are very flexible in our level of involvement from project to project. We can offer lighting design services, producing drawings and mock ups, manufacturing fittings and features and our full team of specialist installers for glass, metal and electrical elements, whilst providing project management throughout the project, depending on project requirements. However there are cases when we will work just on the lighting design, or just the manufacture & install, which we believe gives our clients & project partners more flexibility.
3. Has the development of lighting technology in the past few years, had a strong effect on the projects you do?
When The Light Lab was originally founded, it worked primarily with fibre optics. However, with the increasing development of new lighting technology over the past decade, we have progressed into working with many different materials and light sources such as LEDs, cold cathode etc. We have also seen an increase in interactive lighting installations and have worked on several projects such as these over the last few years. One that stands out, in particular, is a project we worked on with architect Allies & Morrison at St Paul's Place, Sheffield. We were asked to design & build an interactive lighting feature, to add a sense of fun to a public stairway leading to a busy public square. Members of the public walk through a radar sensor, embedded into each step, which triggers an RGB LED, so as they climb the stairs, their path is mapped with an instant leading illumination on the side of the building and fading trail of light in their wake. The colour and functionality changes subtly throughout the evening (and from day to day on the lunar calendar), so a new individual experience is created every time."
4. On the subject of technology, is there anything you feel the market is currently missing?
We believe there are always improvements to be made in lighting technology. For us it's more about the small incremental improvements which will open more doors in terms of design possibilities. We feel that the light should take a more organic form, not just in light features but also in fittings with LEDs. Fortunately one of the beauties of our world is that new technologies continue to emerge allowing the boundaries to be expanded in an ever more efficient and magical way. Continuing interactivity and the arrival of OLEDs and light as a material, whilst still in its infancy, will open up wide new avenues for designers to explore and it's exciting for us to help provide the pathway to realising their design ideas.
Originally posted here: http://www.enlightermagazine.com/projects/lightlab-a-rich-variety-challenges
Author The Light Lab
Category