One of our major bespoke build & installation projects this year for lighting designers Speirs and Major has almost reached completion, and the guys at Architects Journal have featured the project in their special supplement, 'A WALK AROUND KING'S CROSS';  free with the latest edition of AJ.
The Pancras Tunnel Link, designed by architects Allies & Morrison, will be open to the public in the next couple of weeks and we're very excited to have been involved in such an exciting regeneration project.
We built and installed the bespoke backlit glass panels, with a white light spectrum from 3.0K to 6.0K, to realise the lighting design of Speirs and Major.
As highlighted below in the AJ article:
"The art-wall is the main focus of the tunnel, located on the outside of the curve where the eye is naturally drawn. It is nearly 100m long and consists of seamlessly joined sheets of glass, back-lit with LEDs capable of emitting the full RGB spectrum"
Architects Journal 'A WALK AROUND KING'S CROSS'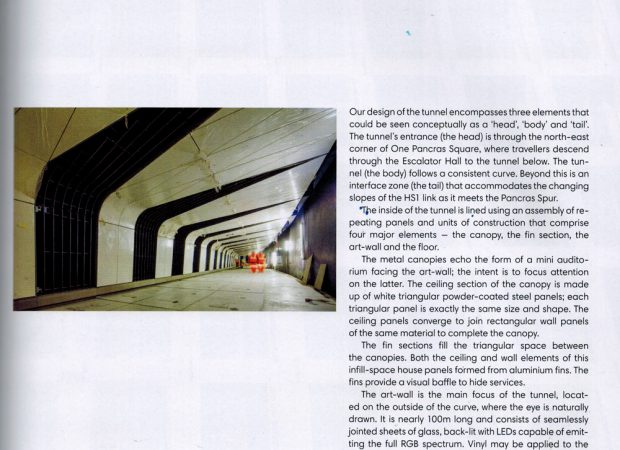 Author The Light Lab
Category